Regular price
Sale price
$40.00 CAD
Unit price
per
Sale
Sold out
Share
This healing crystal necklace featuring a silver-toned triquetra would make fantastic gift for your wife, best friend, girlfriend or yourself! It's a perfect choice for that spiritual person in your life. The beauty of this necklace is its versatility. You choose the type of crystal point you want from a large selection of gemstones, I'll embellish your choice of stone with a silver toned triquetra, and a color coordinating round bead. The pendant in the main photos is Opalite.
Product Details

The pendant is approximately .5" wide by 3" long, and comes with your choice of a 20" black cotton cord, a 20" or 24" silver plated snake chain, or a 27" inch silver tone ball chain. You choose the type of stone.

I do my best to photograph all products as clearly and accurately as possible, however, colours may appear differently on your screen than they do in person, so please allow for some slight variations.
Stone Choices

A brief description of the properties of each of the available stones is provided to help you make your choice.

- Amethyst – Spirituality, contentment, improved sleep, overcoming addiction. Birthstone for February.
- Lapis Lazuli – Honesty, truth, wisdom, learning. Alternate birthstone for September.
- Onyx – Protection, grounding, emotional and physical strength.
- Quartz – "Master healer", amplifies properties of all other stones, excellent all-around healing crystal. Alternate birthstone for April.
- Rose Quartz – Unconditional love, compassion, forgiveness.
- Opalite – Communication, persistence. Opalite is a manmade glass. Alternate birthstone for October.
- Tiger Eye – Protection, good luck, focus, mental clarity. Dalmatian Jasper – Grounding, love, loyalty, strong relationships.
- Red Jasper – Energy, strength, stamina.
- Blue Goldstone – Positive attitude, uplifting, communication. Goldstone is a manmade glass.
- Red Goldstone – Confidence, ambition, motivation, drive. Goldstone is a manmade glass.
- Aventurine – Luck and opportunity. Alternate birthstone for the month of May.
- Malachite (Synthetic) – Protection, absorbs negative energy, protects travelers.
- Howlite – Calming, stress relief, dream retention.
- Turquoise (Dyed Howlite) – Boosts mood, relieves stress, exhaustion and panic attacks. Birthstone for December. This turquoise is simulated turquoise made by dying Howlite. As such it holds the healing properties of Howlite as well.
- Angel Aura – Elevates mood, promotes clarity, communication, aura cleanser.
- Titanium Aura – Activates, balances and clears all chakras. Promotes balance and grounding.
About Triquetra

The Triquetra or Trinity Knot is an ancient symbol that has significance in many religions and cultures worldwide. word 'Triquetra' comes from the Latin for 'three-cornered. For Wiccans, the Trinity knot is symbolic of the threefold nature of the Goddess as mother, maiden and crone. It is also representative of the forces of nature (earth, fire and water) and the three interlocking circles are symbolic of female fertility. In the Christian faith, the three points of the Triquetra represent the Holy Trinity of Father, Son and Holy Spirit. According to the Celts, the most important things in the world came in threes; three domains (earth, sea and sky), three elements, three stages of life. It is also possible that the Triquetra signified the lunar and solar phases. During excavations of various archaeological sites from the Celtic era, a number of Trinity knot symbols have been found alongside solar and lunar symbols. The endless intertwining curves can represent eternal love and longevity. It's a symbol with many meanings.
Shipping

Ready to ship from Canada in about a week.

Shipping from Canada. Free standard worldwide shipping on orders over CAD$75.00. Shipping to Canada and the US includes tracking. International shipping is untracked.

Upgrades to faster shipping options and tracked international shipping available at checkout. The buyer is responsible for any customs, duty, or taxes charged for cross-border shipments. 

 
Caring for your piece of magic
View full details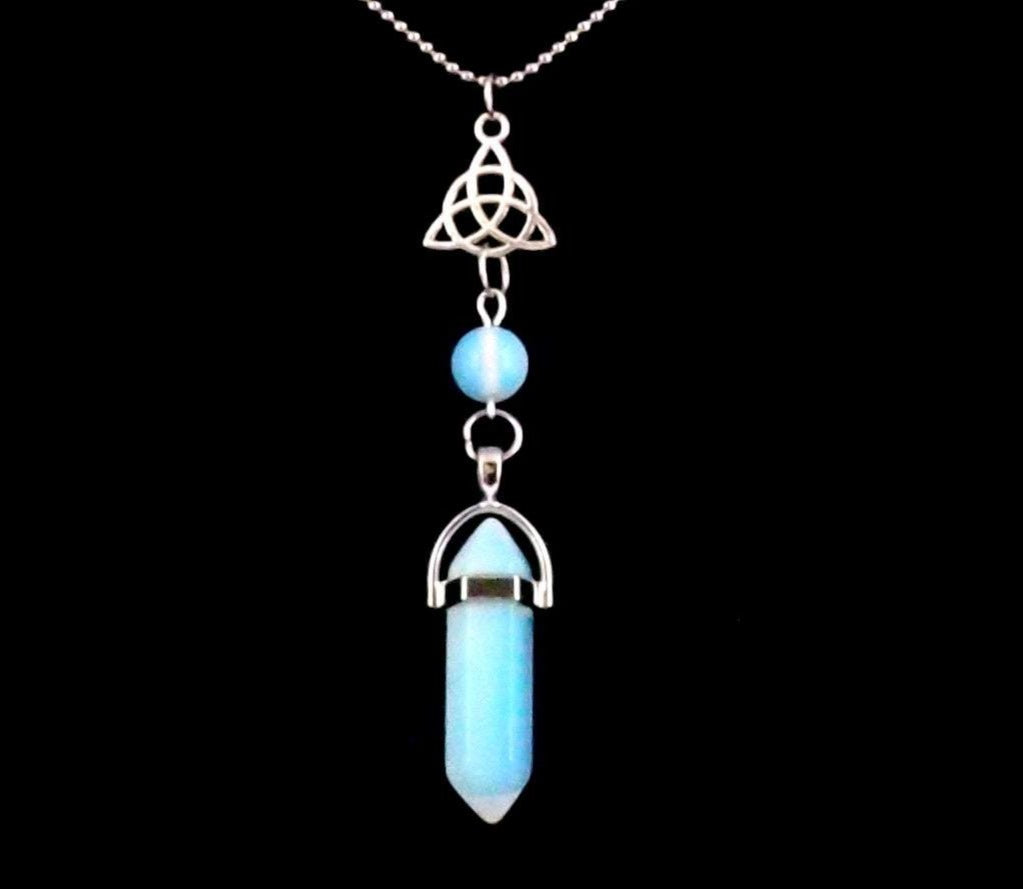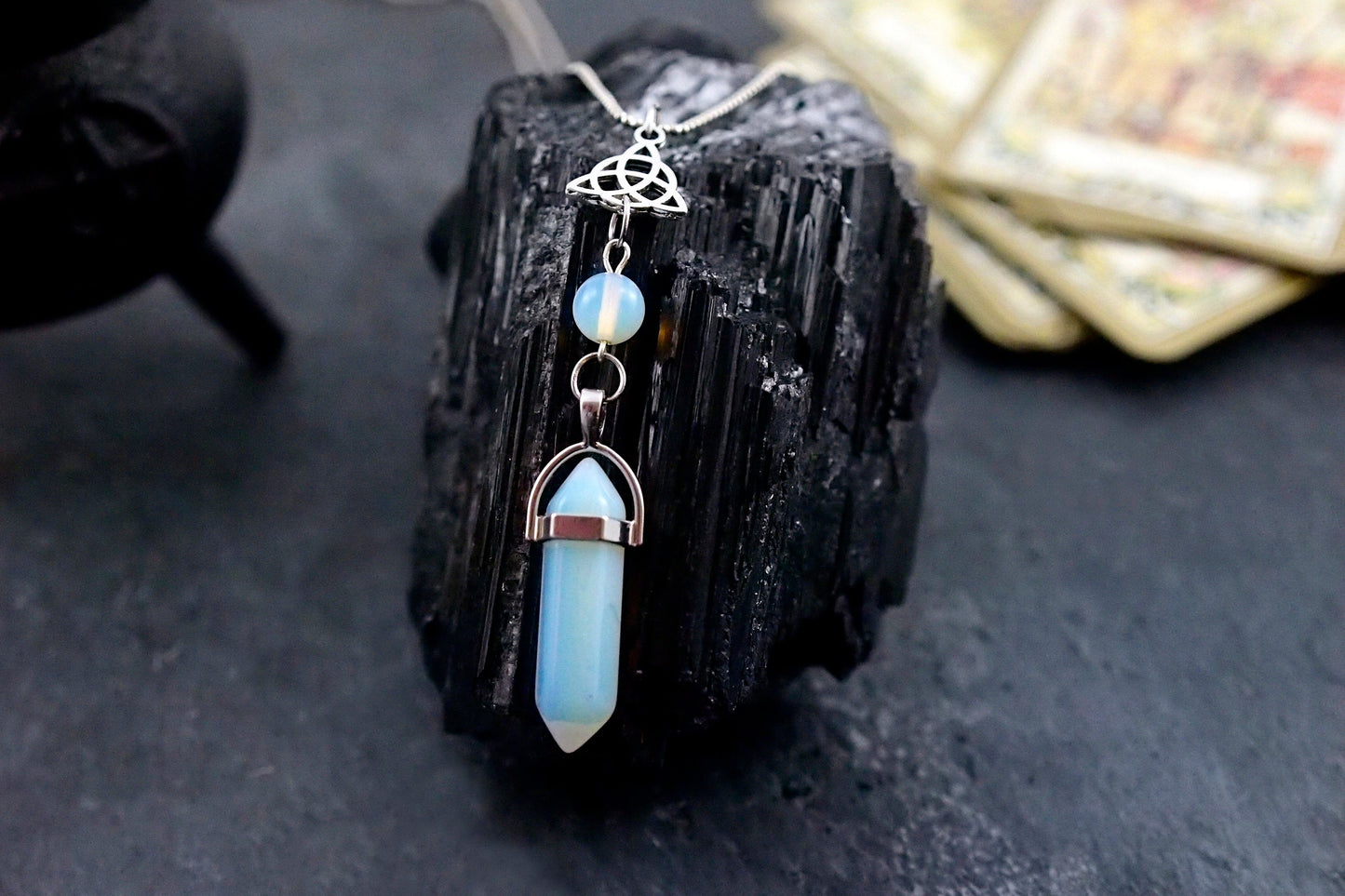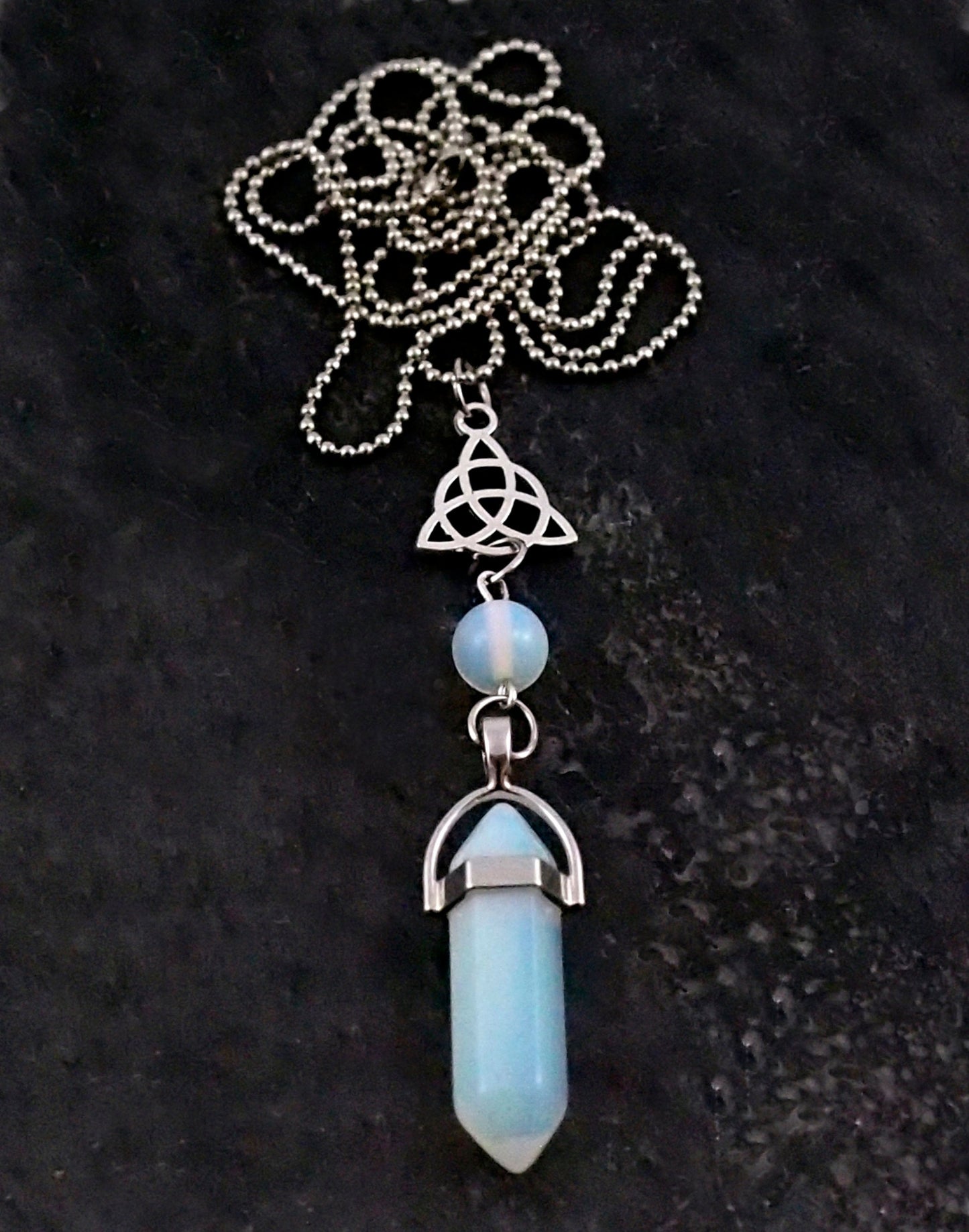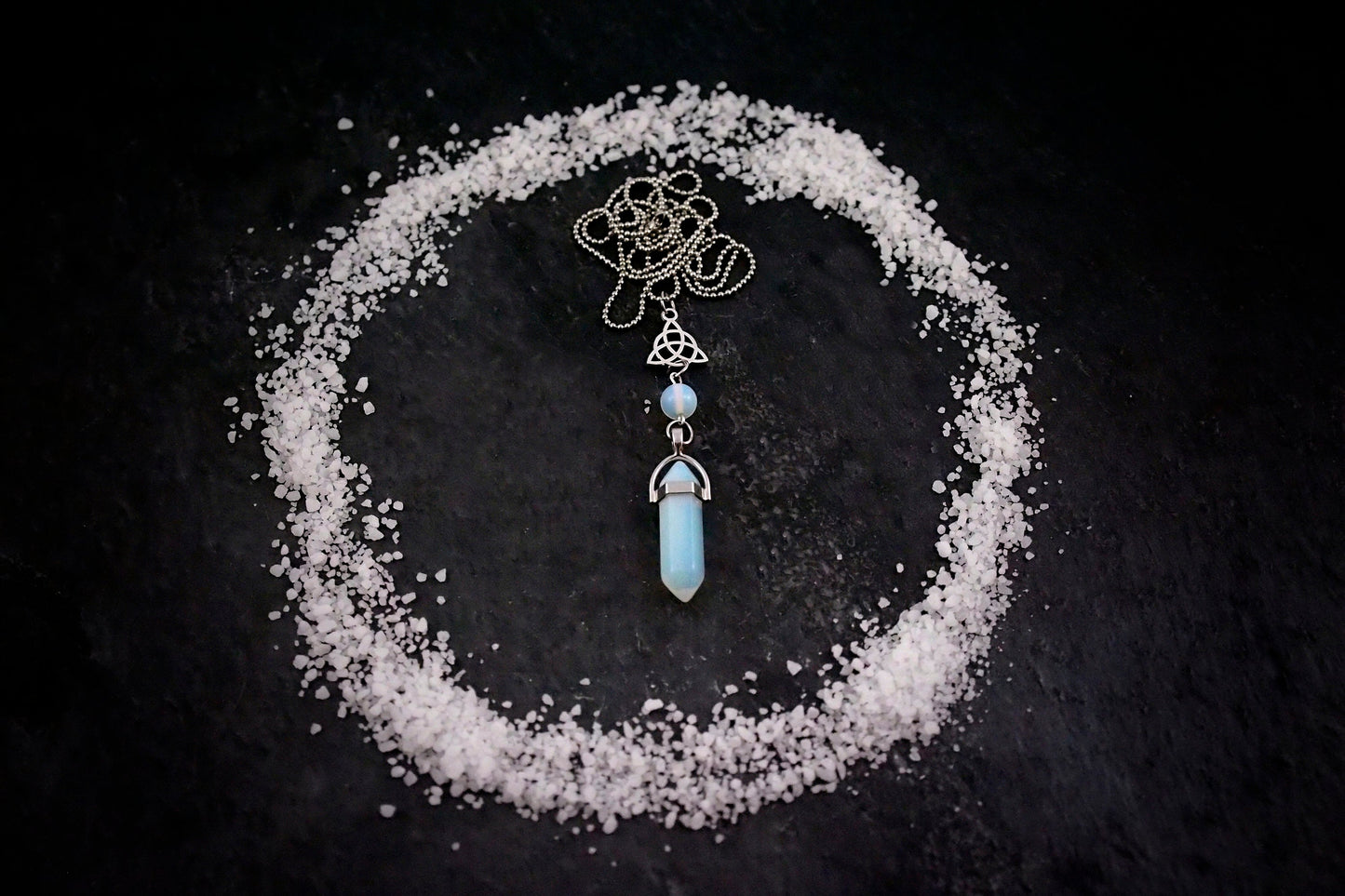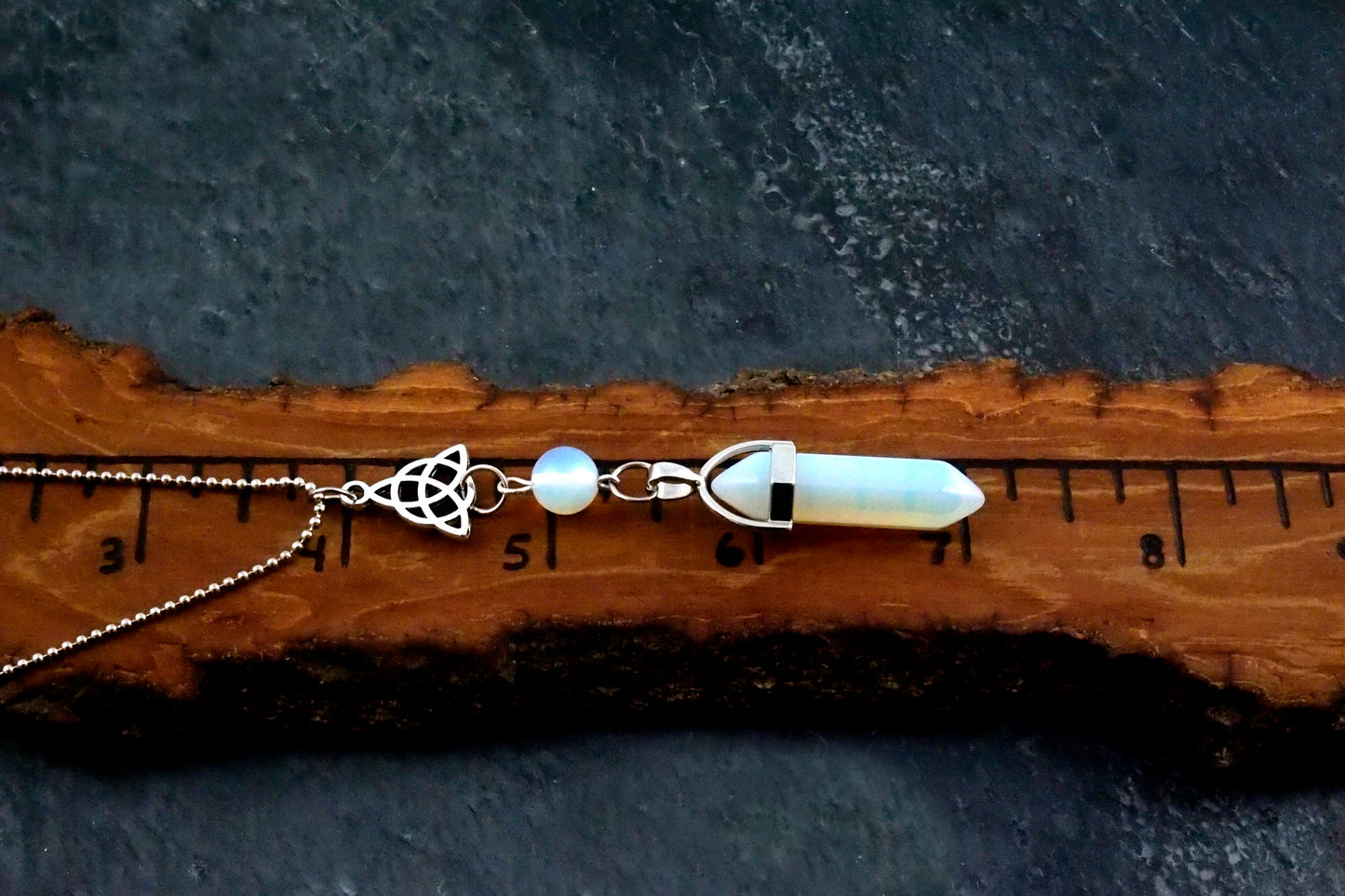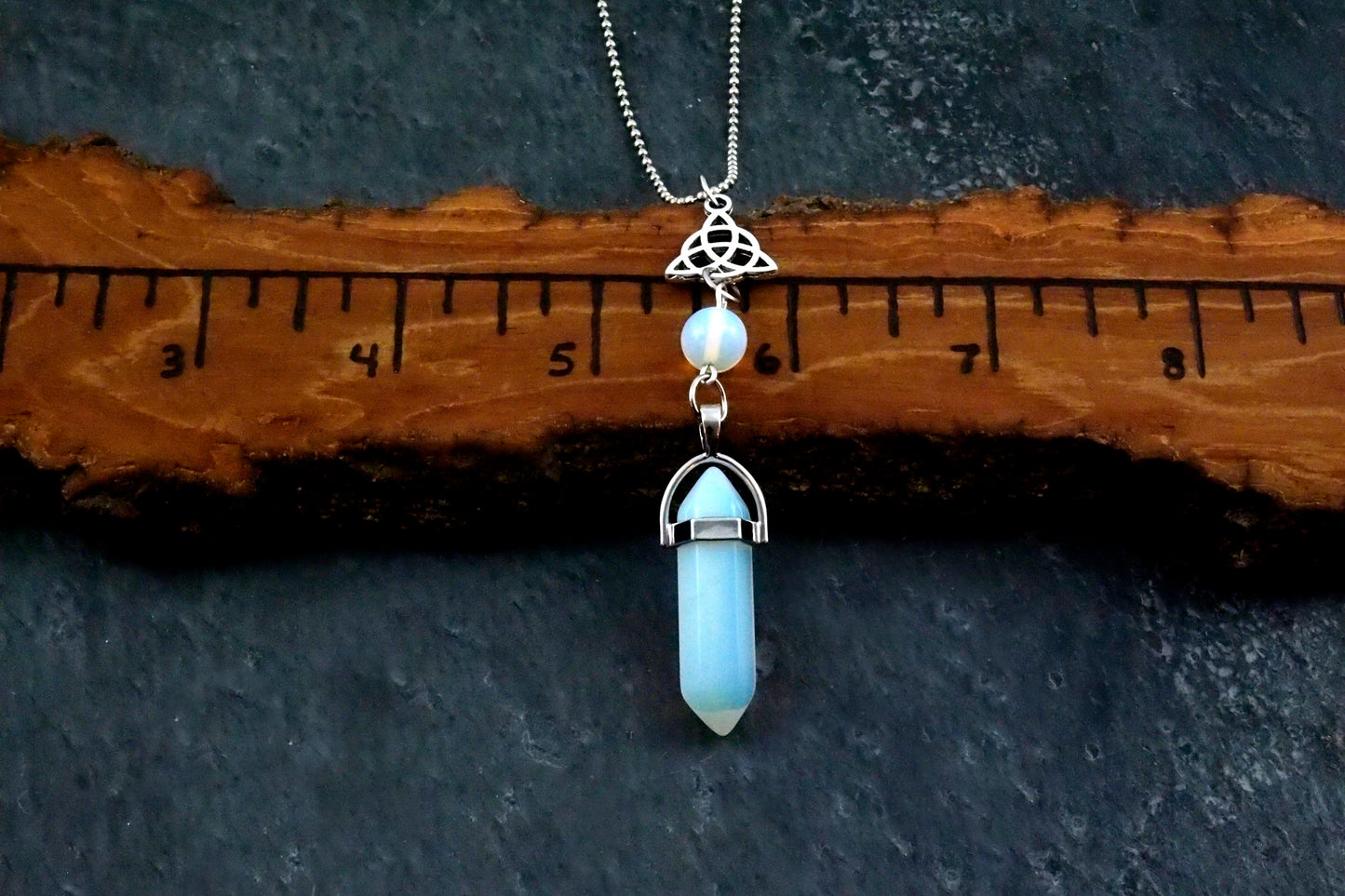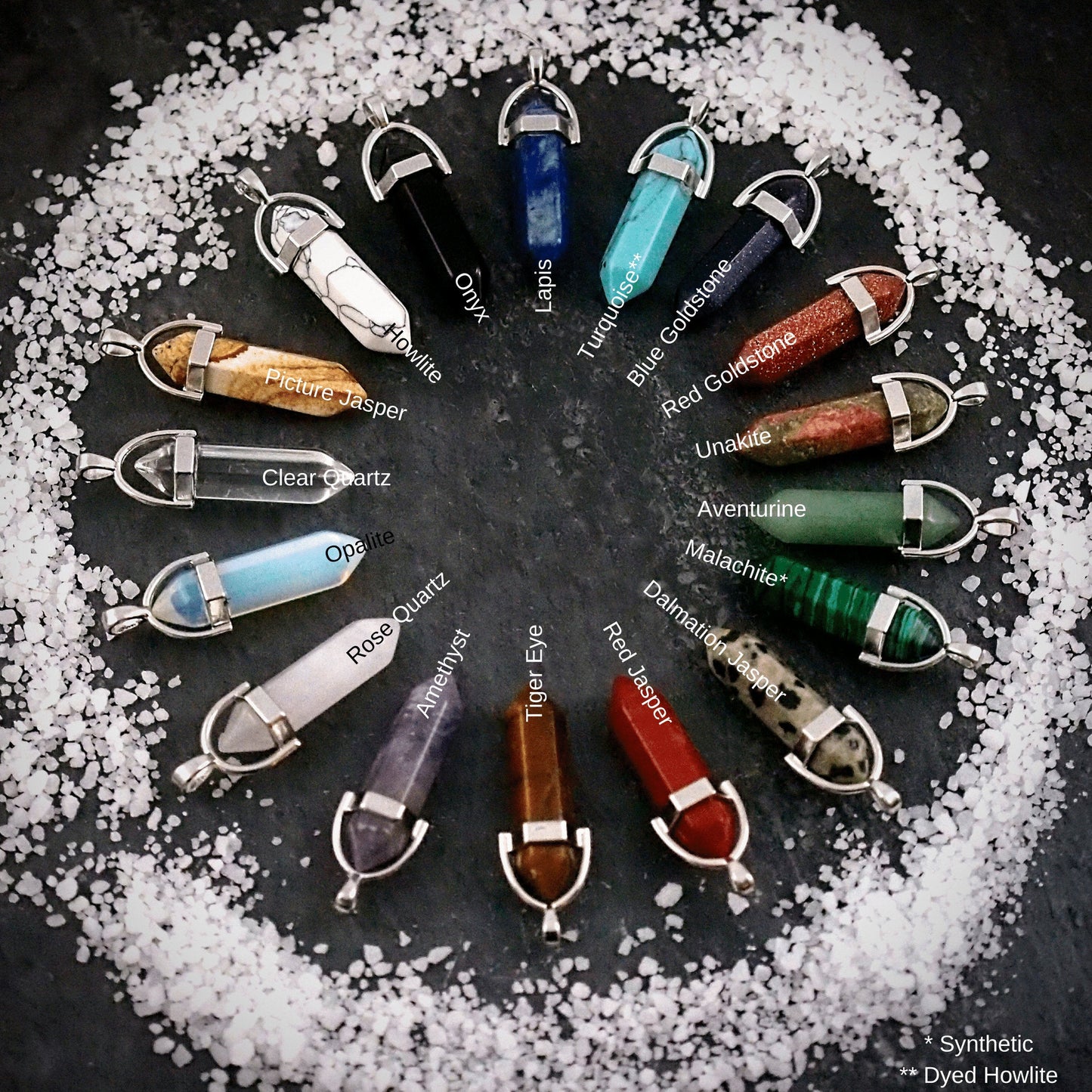 Caring for Your Magic
Magic can be a delicate thing. A few things to know:
Wire wrapped pieces sometimes have rough edges, even after filing and polishing. Handling with care and avoid wearing wire wrapped pieces against fabric that snags easily
Always remove your jewellery before showering, bathing or sleeping.
If you need to clean your jewellery, use a soft cloth. Some orders will be packaged with a small cleaning pad.
All metals will eventually tarnish. Storing jewellery away from air and light can help slow down the oxidization.
If you want to brighten up tarnished metal, you can use a polishing compound. Make sure to keep polish away from any gemstones or crystals as polish may damage them.
Some mixed metal pendants can be damaged by polishing. If you plan to polish these pieces, test the results on the back of the piece or in an inconspicuous place first. 
Do not use polishing compounds on tree of life wall art -- this will remove the silver finish
Some gemstones are sensitive to light and/or water. I recommend keeping home decor pieces in locations where they are sheltered from rain and not in constant direct sunlight. Re-locating your decor piece to different parts of your home from time to time can help ensure that the stones will remain their original colour.
Some gemstones are dyed -- these can bleed colour if they get wet. I don't often use dyed stones, but it can happen that I receive a shipment of stones that are dyed without knowing. Keeping your magic dry is the best way to avoid any problems with the dye.