Regular price
Sale price
$40.00 CAD
Unit price
per
Sale
Sold out
Share
A hand beaded Canadian Jade bracelet help us release anger and guilt and allows us to forgive ourselves and other. So when you're feeling guilty for eating a dozen chocolate chip cookies after a tough day at work, slide this bracelet on your arm and let that guilt go.
This particular stone looks very similar to Peridot, the birthstone for August, so this bracelet makes a great gift for your favourite August people.
Product Details

This bracelet features 6 genuine Canadian jade beads and is accented with onyx. The bracelet is approximately 7" in diameter and will fit most adult wrists.

I do my best to photograph all products as clearly and accurately as possible, however, colours may appear differently on your screen than they do in person, so please allow for some slight variations.
About Canadian Jade

Jade is a "dream stone," that releases negative thoughts and irritability and soothes the mind. It relinquishes self-imposed limitations and helps us embrace our ideals and desires. Jade provides confidence and self-assuredness, self-reliance and self-sufficiency.
Fun with Canadian Jade

Hold this bracelet over your heart chakra and forgive all of the asshats you've worked with over the years for all the wrong they've done. While you're at it, let go of the guilt you feel for calling them asshats.

At the end of a rage inducing day, stare at the stones when you roll this bracelet on your arm, and allow yourself to breathe and release all of that pent up anger.
Canadian Jade Birthstone Info

Canadian Jade is not a traditional birthstone, but has a similar colour to peridot and makes a nice alternative birthstone. It is one of the natural birthstones of those born during the period where spring gives way to summer (May 21 – June 20). It is the zodiac stone for the sign of Taurus.
Canadian Jade Chakra Info

Jade is associated with the Heart chakra. The heart chakra is located near the centre of the breastbone and controls what we embrace and what we resist. When the heart chakra is in balance we are relaxed and accepting, and interact easily with others. A balanced heart chakra means we understand our own needs and emotions, and are able to maintain balance.
Shipping

Ready to ship from Canada in 1 to 2 days.

Shipping from Canada. Free standard worldwide shipping on orders over CAD$75.00. Shipping to Canada and the US includes tracking. International shipping is untracked.

Upgrades to faster shipping options and tracked international shipping available at checkout. The buyer is responsible for any customs, duty, or taxes charged for cross-border shipments. 

 
Caring for your piece of magic
View full details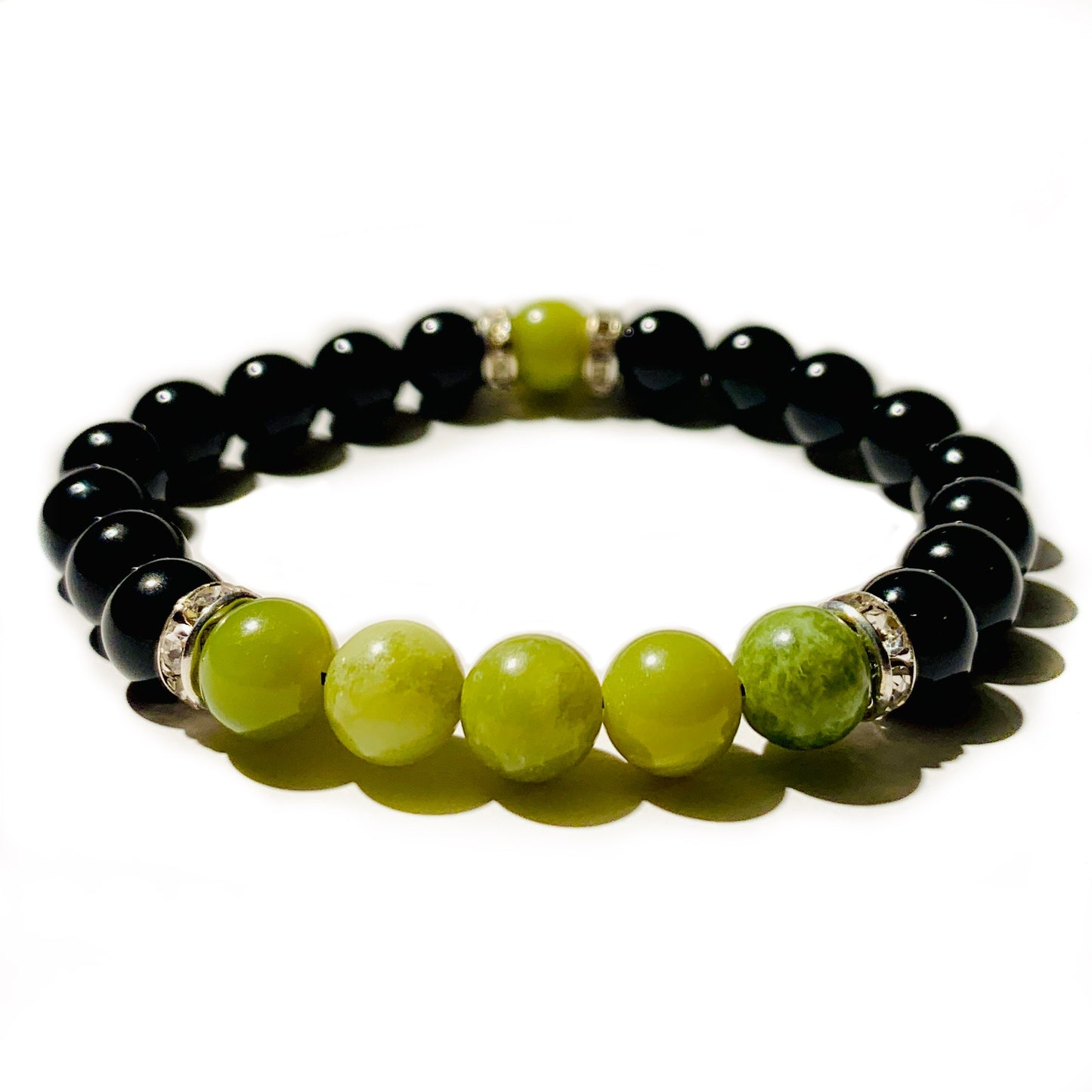 Caring for Your Magic
Magic can be a delicate thing. A few things to know:
Wire wrapped pieces sometimes have rough edges, even after filing and polishing. Handling with care and avoid wearing wire wrapped pieces against fabric that snags easily
Always remove your jewellery before showering, bathing or sleeping.
If you need to clean your jewellery, use a soft cloth. Some orders will be packaged with a small cleaning pad.
All metals will eventually tarnish. Storing jewellery away from air and light can help slow down the oxidization.
If you want to brighten up tarnished metal, you can use a polishing compound. Make sure to keep polish away from any gemstones or crystals as polish may damage them.
Some mixed metal pendants can be damaged by polishing. If you plan to polish these pieces, test the results on the back of the piece or in an inconspicuous place first. 
Do not use polishing compounds on tree of life wall art -- this will remove the silver finish
Some gemstones are sensitive to light and/or water. I recommend keeping home decor pieces in locations where they are sheltered from rain and not in constant direct sunlight. Re-locating your decor piece to different parts of your home from time to time can help ensure that the stones will remain their original colour.
Some gemstones are dyed -- these can bleed colour if they get wet. I don't often use dyed stones, but it can happen that I receive a shipment of stones that are dyed without knowing. Keeping your magic dry is the best way to avoid any problems with the dye.