Regular price
Sale price
$75.00 CAD
Unit price
per
Sale
Sold out
Share
A handmade wire wrapped tree of life necklace beaded with turquoise gemstones. You can choose between sterling silver or copper wire for your pendant.
Turquoise will help you find the energy you need to get through another soul sucking day at work. 
As a December birthstone, this turquoise necklace makes a great gift for your favourite December people.
Product Details

The pendant is about 1 wide by 1.5 inches long, including the bail. It comes with a 20" chain that matches the wire colour you select. If you'd like a different chain length, or a different type of chain, you can leave me a note at checkout.

I do my best to photograph all products as clearly and accurately as possible, however, colours may appear differently on your screen than they do in person, so please allow for some slight variations.
About Turquoise

The blue green colour in turquoise comes from the copper content in the mineral. Turquoise has been highly prized for thousands of years due to its unique hue. Native Americans have mined and fashioned Turquoise for thousands of years, using it to guard their burial sites. Turquoise balances and boosts overall mood, relieves stress and is thought to help with depression, exhaustion and panic attacks. Holding or wearing Turquoise helps restore depleted vitality and lifts sagging spirits.
As a stone of purification, Turquoise dispels negative energy. It promotes self-realization and aids in creative problem-solving. It calms the nerves when speaking in public. It helps stabilize mood swings and is empowering if you feel bullied.
Fun with Turquoise

Grab your turquoise pendant when you're looking to engage your creative problem solving skills -- like when you need to figure a creative solution for deal with the asshattery that surrounds you.

Put your necklace on at the end of the work day to boost your energy, and melt away the stress caused by daily bullshit. And to make you look amazing of course.
Turquoise Birthstone Info

Turquoise is one of three birthstone for those born in December. The other birthstones for this month are Tanzanite and Blue Zircon. Turquoise is one of the natural birthstones of those born as spring begins (20 March to 19 April). It is also the zodiac stone for the sign of Sagittarius.
Turquoise Chakra Info

Turquoise activates and balances the energies of the Throat Chakra.

The Throat Chakra is the voice of the body, a pressure valve that allows the energy from the other chakras to be expressed. A balanced throat chakra allows us to express what we think and what we feel, to communicate our ideas, beliefs, and emotions and to bring our truth out into the world.
About the Tree of Life

The tree of life is a mystical and magical tree that is well known in many cultures. It represents our connection to all things -- earth, air, water, fire. In Celtic culture, trees were the centre of all that occurred -- the absence of trees would be the absence of life. In Christian tradition, eating from the tree of life is said to grant immortality. In Norse mythology, the tree of life, or Yggdrasil, binds together all realms of existence. This ancient tree represents our connection to our ancestors and also of our individuality. The stages of a tree's growth through the year mirrors that of the cycle of life, similar to the eternal life/re-birth traditions in many religions.
Shipping

Ready to ship from Canada in about a week.

Shipping from Canada. Free standard worldwide shipping on orders over CAD$75.00. Shipping to Canada and the US includes tracking. International shipping is untracked.

Upgrades to faster shipping options and tracked international shipping available at checkout. The buyer is responsible for any customs, duty, or taxes charged for cross-border shipments. 

 
Caring for your piece of magic
View full details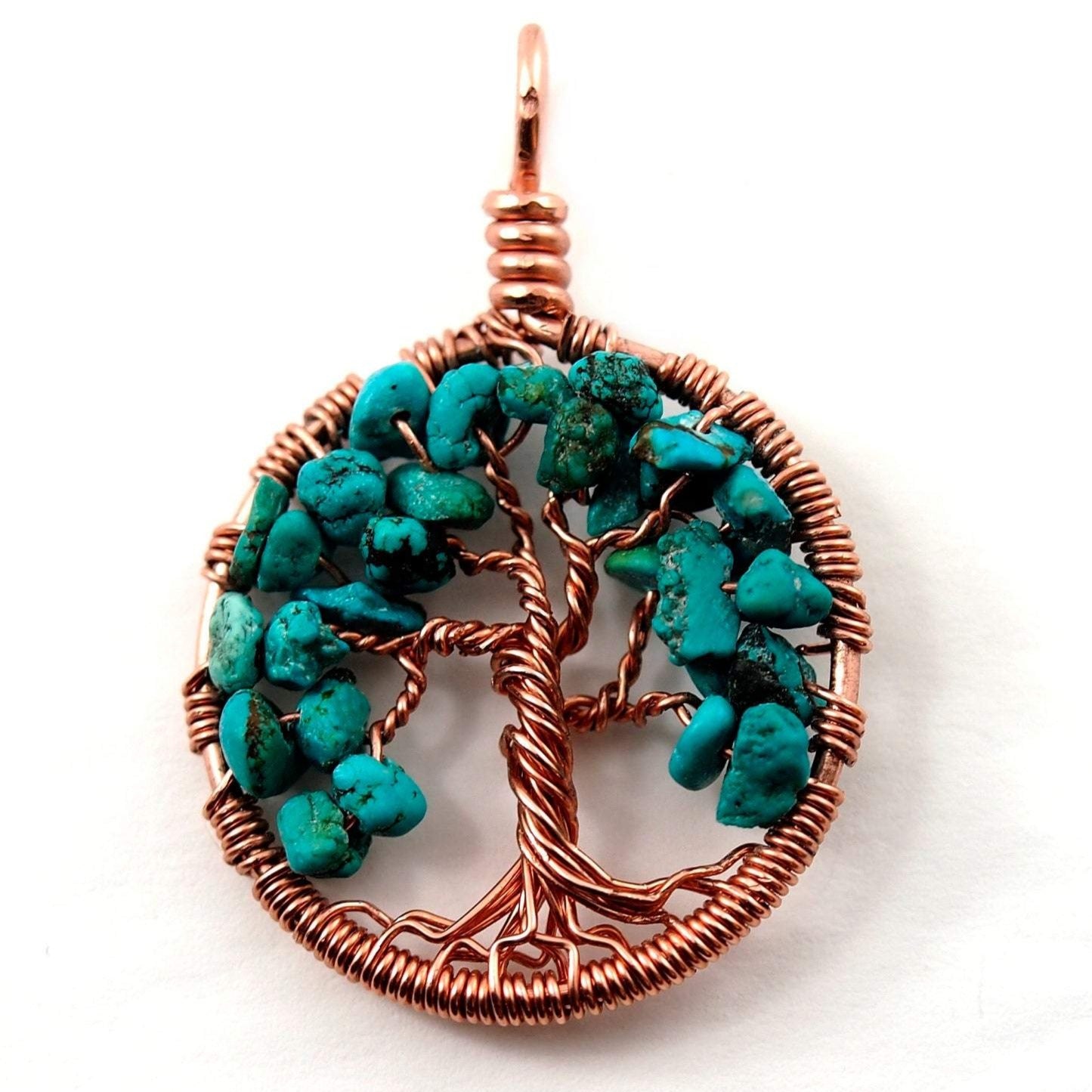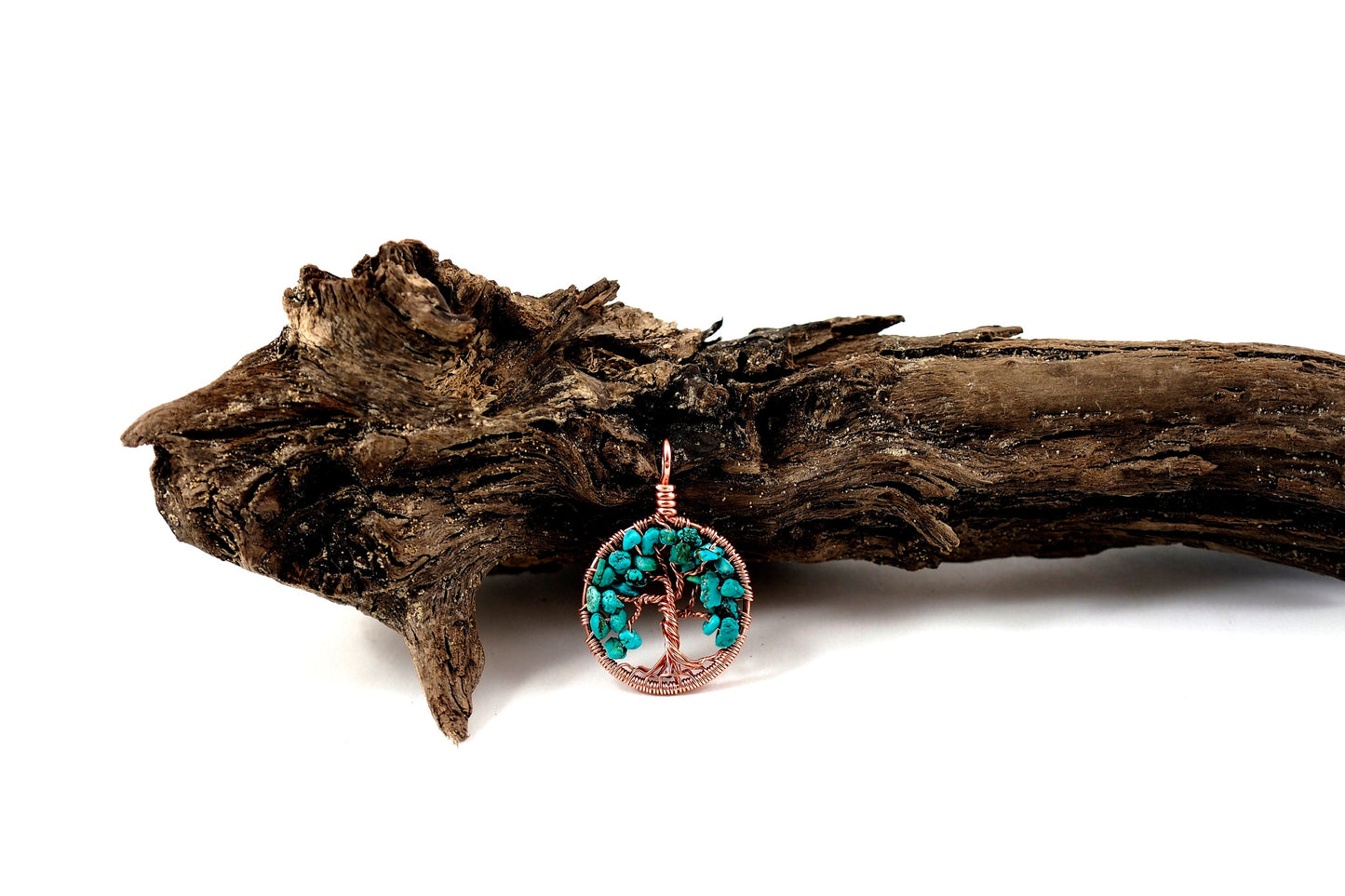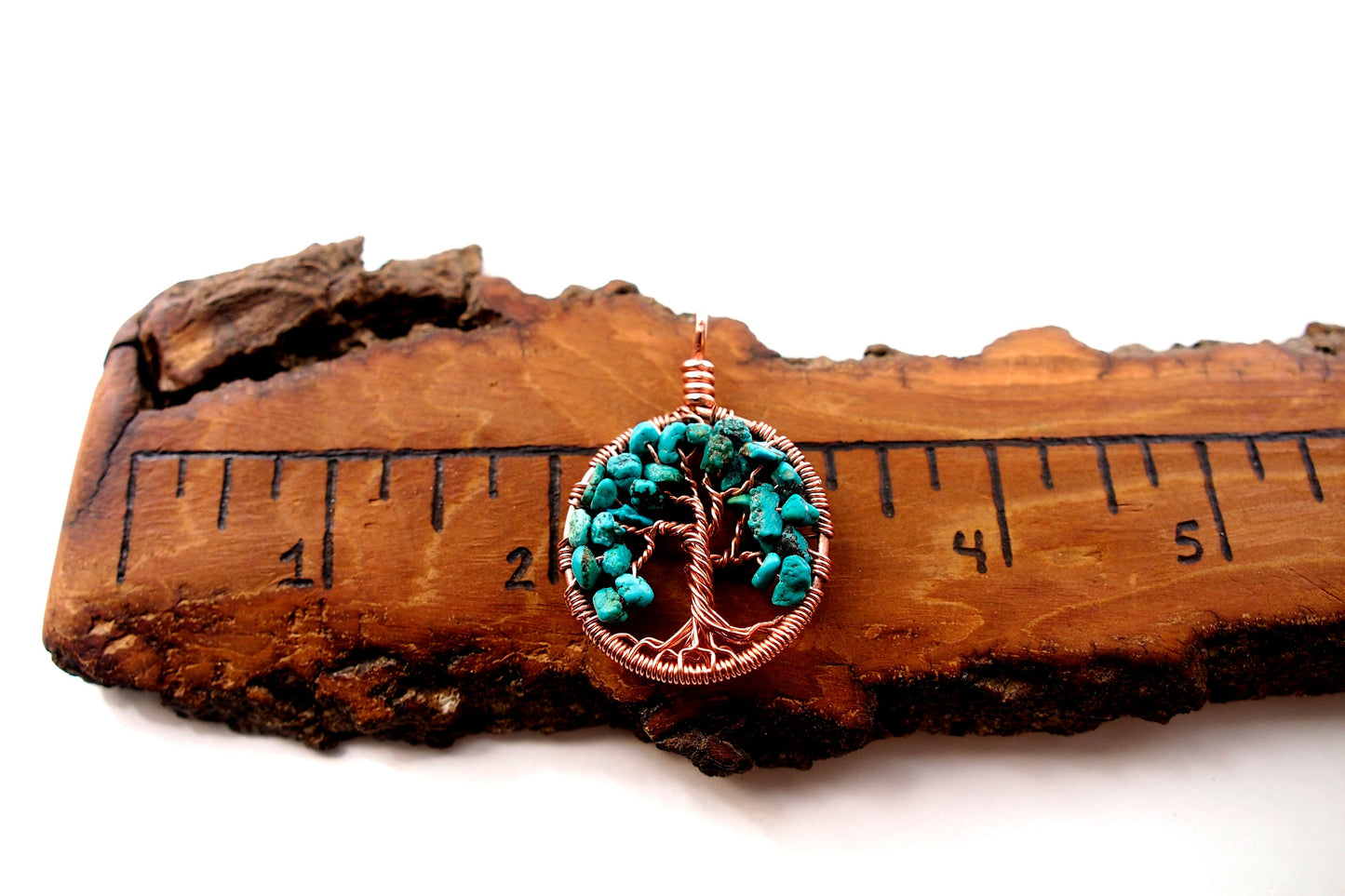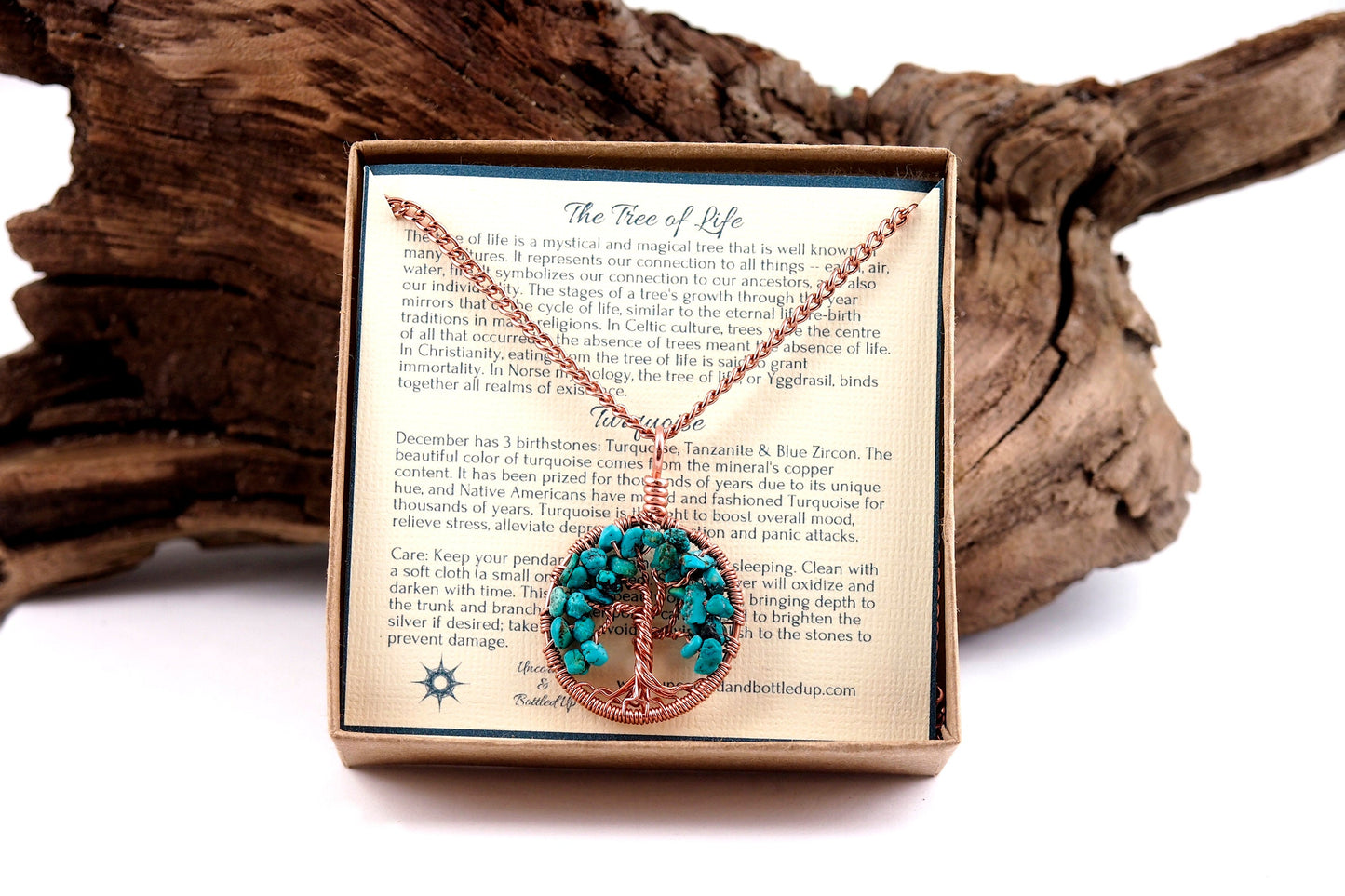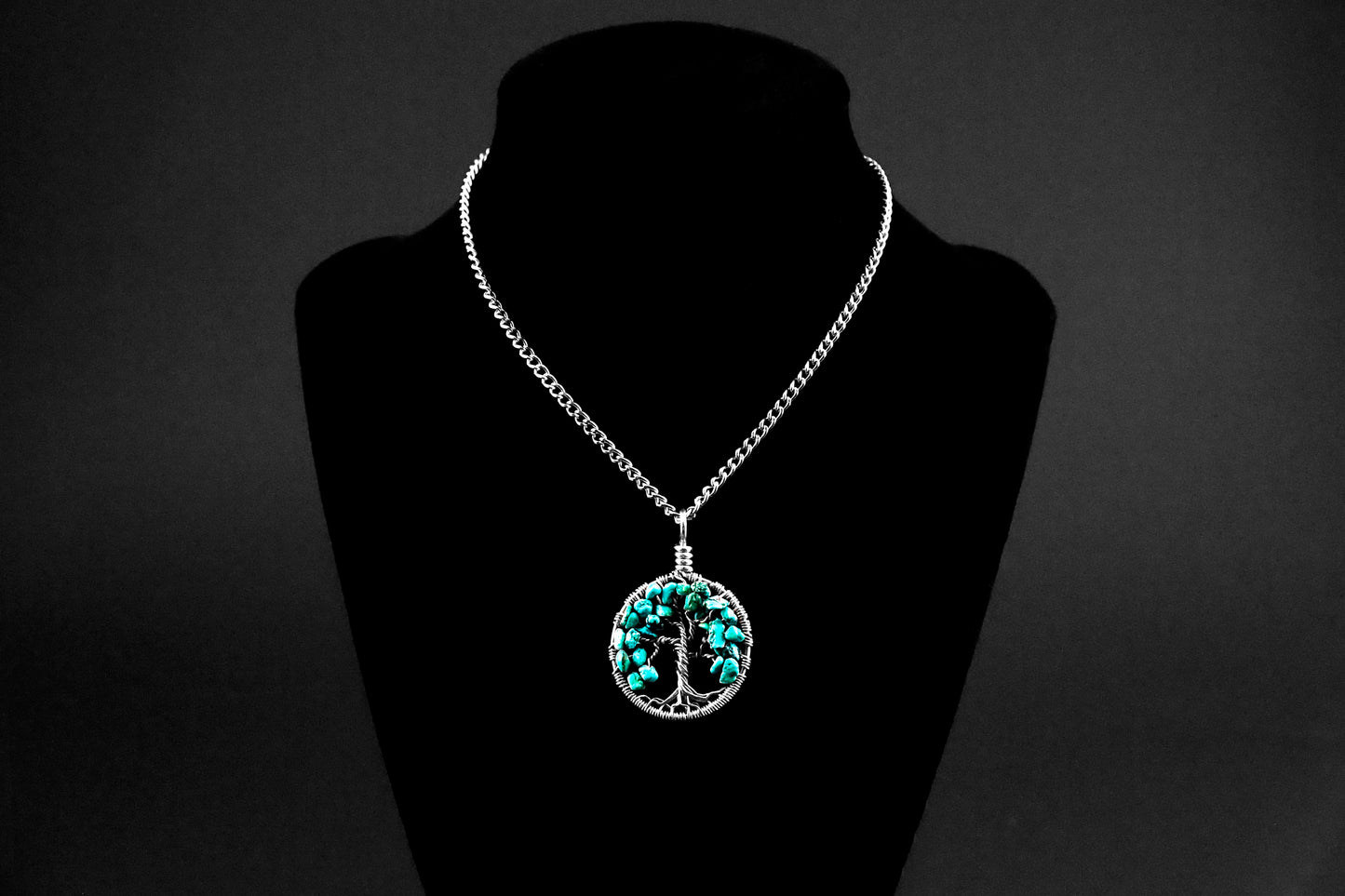 Caring for Your Magic
Magic can be a delicate thing. A few things to know:
Wire wrapped pieces sometimes have rough edges, even after filing and polishing. Handling with care and avoid wearing wire wrapped pieces against fabric that snags easily
Always remove your jewellery before showering, bathing or sleeping.
If you need to clean your jewellery, use a soft cloth. Some orders will be packaged with a small cleaning pad.
All metals will eventually tarnish. Storing jewellery away from air and light can help slow down the oxidization.
If you want to brighten up tarnished metal, you can use a polishing compound. Make sure to keep polish away from any gemstones or crystals as polish may damage them.
Some mixed metal pendants can be damaged by polishing. If you plan to polish these pieces, test the results on the back of the piece or in an inconspicuous place first. 
Do not use polishing compounds on tree of life wall art -- this will remove the silver finish
Some gemstones are sensitive to light and/or water. I recommend keeping home decor pieces in locations where they are sheltered from rain and not in constant direct sunlight. Re-locating your decor piece to different parts of your home from time to time can help ensure that the stones will remain their original colour.
Some gemstones are dyed -- these can bleed colour if they get wet. I don't often use dyed stones, but it can happen that I receive a shipment of stones that are dyed without knowing. Keeping your magic dry is the best way to avoid any problems with the dye.